Public Beaches
Reeder, North Unit, Walton, Collins and Warrior Point public beaches are located along the island's north/east coast (Columbia River). Travel along NW Reeder Road's last few miles past the end of the pavement (approx 4 miles down the road from Reeder Beach). Walton Beach and Warrior Point Beach are located on the north side of the island in Columbia County.  Warrior Point Beach (pictured below) is accessible by boat or a 3.5 mile hike from the end of Reeder Road.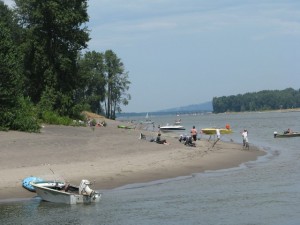 Driving directions
You have two choices as to routes: One is to take Gillihan road, which runs from the general store underneath the bridge, and follow it for several miles to the intersection with Reeder Road, turning right onto Reeder Road. Or, take Sauvie Island Road north from the store (turn left out of the store parking lot), and turn right onto Reeder Road a few miles up. Continue on Reeder Road after it intersects with Gillihan Road.  Continue to follow Reeder Road, which will become a bit narrower and rougher as it crosses into Columbia County. Stay on Reeder Road, passing Reeder Beach, a small RV park and marina, and a few farms. Stay on Reeder until the road turns to gravel (the beach parking lot along the paved portion is a clothed beach, known as Walton Beach). Once you reach the gravel portion, you will see a sign: Entering Clothing-Optional Area. Parking is along the left-hand side of the road; foot trails to the beach are on the right, marked 1 through 6.
Following rules apply for all beaches:
Open from dawn to 10:00 p.m., and closed to overnight use and camping.
Open fires (bonfires/campfires) are not allowed.
Dogs are allowed if they are leashed.
Beach parking is subject to Sauvie Island Wildlife Area parking permits. Vehicles without a permit are towed and impounded; as of 2005, this can cost a vehicle's owner around $700.
More about individual beaches:
Reeder Beach – does not have direct public access. Please note: the beach at Reeder Beach RV Park and Country Store is a private beach for RV tenants only. Store and two port-a- potties are open to public.
Collins Beach – is partly a clothing-optional area. The beach is one mile long and begins about 0.25 miles after Reeder Road becomes gravel. Hours are 04:00 a.m. to 10:00 p.m. every day.

The beach has been popular for nude use since at least the 1970s.
It is surrounded by a 12,000-acre fish and game reserve, except for a 10-acre parcel of privately-owned land west of Reeder Road at the north boundary of Collins Beach. It is administered by the Oregon Department of Fish and Wildlife in cooperation with the Columbia County Sheriff's Office.
Nude beach users continue onto the non-nude North Unit Beach which is poorly delineated and ineffectively screened from view, which has led to a legal complaint by the property owners.
Note: If you have not already purchased a daily or yearly parking permit, you will need to do so. They are available at the general store at the base of the bridge as you cross the river channel. A daily pass is $10.00; an annual permit is $30.00. Be sure to place this on your dash when you park at the beach.