COVID-19 Response
Oregon Department of Fish and Wildlife
Find all ODFW closures and cancellations, as well as answers to frequently asked questions about fishing, recreating outdoors, and visiting ODFW hatcheries and wildlife areas on their website.
---
***Important Traffic Change***
Reeder Road Culvert Replacement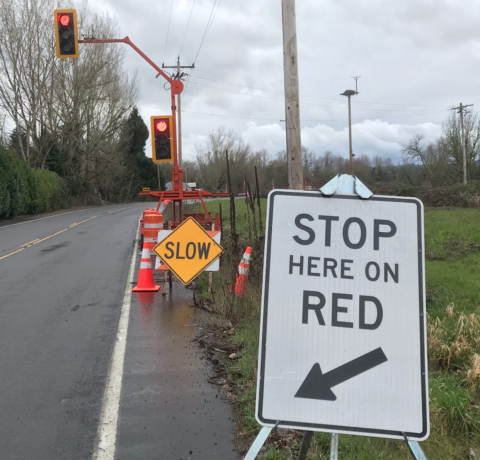 Two culverts under Reeder Road have partially collapsed. They carried a slow-moving section of Dairy Creek, and their collapse caused the embankment above them to fall in. This created large sinkholes in the southbound lane.
The road is currently reduced to one lane and is being monitored to ensure it is safe to remain open.
Check this link to Multnomah County webpage for updates:
https://www.multco.us/roads/webform/reeder-road-culvert-replacement
---
Become a SICA Sponsor
Sponsorship annual renewals are due April 1 of each year
The Sauvie Island Community Association is run by volunteers and funded by sponsorships and donations.
SICA sponsors have great exposure to all those who visit the island website. Sponsors help us maintain the Sauvie Island website and contribute to programs, events, and our community enewsletter Newslinks. For more information, go to Sponsor webpage.
---
Reminder: There are no gas stations on the island.
There are gas stations in Linnton (2 mi south of bridge) and in Scappoose (9 mi north).
---
This website is provided by the Sauvie Island Community Association to help visitors and residents alike find the information they need. Follow these links for important information if you plan to visit:
Visitors
Sauvie Island, originally Wapato Island, is approximately 10 miles north of Portland, Oregon. It is the largest island in the Columbia River and one of the largest islands in the U.S. Located at the junction of the Columbia River to the east, Willamette River to the south and Multnomah Channel to the west, the island's northern half is a wildlife refuge and the southern half is predominantly rural farmland with small residential enclaves. Access to the island is by the Sauvie Island Bridge on Highway 30.
---
Sauvie Island Residents
You don't have to be a community association member to attend meetings or events, but if you are, you'll get to vote on board members.
Want to be a member? Just send an email to communityassociation@sauvieisland.org with your name and the address of your property or business on the island or Multnomah Channel houseboat.
The Sauvie Island Community Association is recognized by Multnomah County as an official neighborhood association and as such, serves as the representative of the Sauvie Island community to the county.