Sturgeon Lake
Sturgeon Lake is located on the northern end of the island. It also connects with Steelman Lake and Mud Lake, so you can easily spend all day exploring on the water if you would like to. When the water is high there is no need to worry about tides, but in summer when the water lowers avoid low tide as you can find yourself stranded in the mud flats near shore. Motor boats are allowed on the lake but are very rare encounters – speeds are low and wakes are minimal. Views of Mt. Hood, Mt. Adams, and Mt. St. Helens can all be seen on the lake, as can jumping fish, herons, and falcons. There is no significant current on the lake but paddling on windy days is not recommended. Remember that every member of the family should always wear a PFD regardless of conditions.
Thousands of migrating waterfowl and several endangered species use the island and Sturgeon Lake for feeding and wintering habitat. The 1985 Atlas of Oregon Lakes identified Sturgeon Lake as a "Large, shallow mud-bottomed lake located on Sauvie Island. Water quality problems include siltation and very high turbidity; the lake also experiences algae blooms and high bacteria counts. Hydraulic modifications over the years have exacerbated the sedimentation problem. Recommendations for rehabilitation include re-opening Dairy Creek, thereby re-establishing natural flushing from the Columbia River. Funding for this proposal has been difficult to obtain."
Oregonian article link on latest funding needs
West Multnomah Soil and Water Conservation District for information on current Sauvie Island projects.
Virginia Lake
Located in the Wapato State Greenway. A 1.5 mile walking path encircles it. Two birding viewpoints are located on the path around this small lake; one with a blind with slots at all heights which is great for looking and listening for songbirds and early waterfowl. This small lake can be found completely dried by end of summer. No hunting allowed here.
To reach Wapato State Greenway parking lot travel from bridge onto the island, continue north on Sauvie Island Road, past the intersection with Reeder Rd, past Ferry Road boat ramp turnoff, until the marked parking lot on the left.
Gilbert River
Drains from Sturgeon Lake and opens on the Sauvie Island shore 6 miles upstream from the mouth of the channel. An overnight mooring float (without shore access) is located a quarter mile up the Gilbert River. Canoes and shallow draft boats are able to go up the Gilbert to Sturgeon Lake. Warning: A power line with a clearance of 53 feet crosses the Gilbert a quarter mile from the lake's outlet.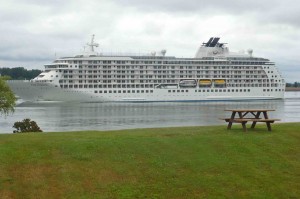 Columbia River
Extreme current and large amount of ocean-going vessels.
Multnomah Channel
Affected by tidal action, the channel can experiences strong currents especially at high water events. Power boats beware of wake zones with 5 mph speed limits near several floating home moorages and marina and many canoe and kayaks out to enjoy the  wildlife such as great blue heron nesting.